Mamutu developed by Emsisoft works slightly differently to traditional security software. It provides behavior-based protection against new and unknown threats.
Generally Emsisoft Mamutu 3.0 costs around $30, but you can get it for free with this german Promo which provides 1 year fullversion license of Emsisoft Mamutu 3.0 fo free.
About Emsisoft Mamutu 3.0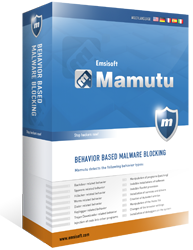 The Mamutu Background Guard is clever. It recognizes and blocks all potentially dangerous programs before they can cause any damage. The new Malware Intrusion Detection System (Malware-IDS) is unique worldwide and immediately warns you when a program attempts to perform a potentially dangerous or suspicious operation.
[ad#ads-inner]
How to get Emsisoft Mamutu 3.0 Free License ?
First visit this German Proxy over here or here or here and enter below promo page URL and click "GO" button.

 Promo page URL : http://www.emsisoft.de/promo/pcgameshardware1012

Now click the button shown in above image, then enter your Name, email ID (twice), password and finally click the "Best….." button


Note : For this you need to create a new account, If you have already an account use temporary email ID, get coupon code and use it in your previous account.

Now you will get a Conformation email along with coupon code, click the conformation link(first link) and your code will be unlocked
Now in that Conformation email look for Lizenzcode, copy that code this the Coupon code.

Now login to your Emsisoft account, go to "Manage Licenses" , then click "Get license by coupon code" and enter above copied coupon code.
That's it, download the installation file from here, install it and activate it by using your Emsisoft account login details.
Note: I posted this article via my Mobile, if there are any mistakes please inform us.