Yesterday we shared a promo for backup software "Backup4all 4.3", today I'm here with a promo for "File recovery" software from PC Tools.
This promotional  offer is set by PCADVISOR, which will give you  Rs 1,100 or  $29.95 worth 1 year PC Tools "File Recover 7.5" full version License for free.
About PC Tools File Recover 7.5:
File Recover allows you to recover critically important documents, or other files, which have been lost by accidental deletion. These files may be lost by emptying the Recycle Bin, or using other deletion actions that bypass the Recycle Bin altogether. Such actions include Windows® Shift-Delete, command line deletion, deleting excessively large files or using applications that delete files without the Recycle Bin.
File recover 7.5 is designed to work on Windows® 2000, XP Pro, XP Home, Vista™ Basic, Vista™ Ultimate (32-bit and 64-bit) and Windows® 7 (32-bit and 64-bit)

File Recover key feature's
Recovers files instantly from hard drives, floppy drives and other types of fixed media. If you are a home user or a network administrator, File Recover fills a critical gap in your data protection strategy.
Rapid scan engine – a typical hard drive can be scanned for recoverable files within minutes.
Scan all files and directories on selected hard drives.
Search for a recoverable file using part or all of its file name.
Utilizing a non-destructive, read-only file recovery approach. File Recover will not write or make changes to the section of the drive from which it is recovering data.
Batch file recovery (recovers multiple files in one action).
Works around bad-sector disk areas. Recovers data where other programs fail.
Supports standard IDE/ATA/SCSI hard drives, including drives larger than 8 GB.
Supports hard drives formatted with Windows® FAT16, FAT32 and NTFS file system
[ad#ads-inner]
How to get File Recover 7.5 License for Free ?
First visit below any of one the web proxy's

www.tor-proxy.net (check in sidebar of the website)
http://www.server99.info/
http://www.docoja.com/blue/
http://web-blocker.co.cc/
http://blockedhere.co.cc/
http://www.fizipo.info/

or
use http://thefreevpn.com/

Now enter this URL http://www.pctools.com/file-recover/free/promo/PCADVISOR0110/ in " URL box" and click go button.
Now fill required fields in the form, as shown in below image and click on "Request free License button"

Instantly you will receive File Recover 7.5 License to the email address you entered in step 3.

Download installation file from this link http://www.pctools.com/mirror/frinstall.exe
Install it ,enter your License code and get PC Tools File Recover 7.5 full version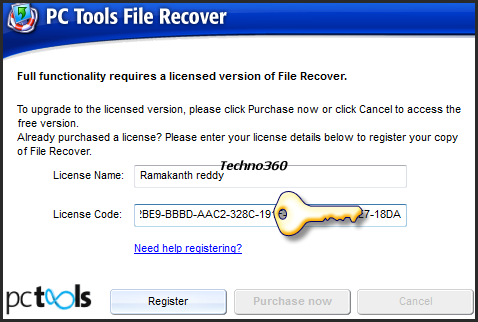 Note:
you can find a list of working UK web proxy's from here http://bit.ly/AgD4B
[ad#chitka]