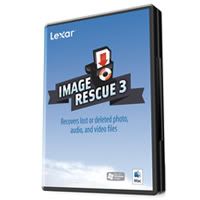 I think in this Digital World every one would have came across situations like,  accidentally deleting an image or memory card corrupted which contains loads of Data  , or  had camera batteries fail while saving a picture, you know the results can be devastating.
Well lexar's Image Rescue 3 is designed to address the serious concerns of both professional photographers and the ever-expanding group of consumers that user flash memory for storing and sharing digital images, videos, and audio files on their cameras, MP3 players, and PDAs.
Coming to the Point ,Lexar Image Rescue 3 is our today's Freebie, although it is not the current version but it normally cost's around $29.95.
About Lexar Image Rescue 3
Lexar Image Rescue 3 allows users to recover lost or deleted photo, video, and audio files, regardless of flash memory card format, manufacturer, or mass storage compliant reader. Designed for both professionals and consumers alike, Lexar Image Rescue 3 boasts a redesigned, step-by-step interface that walks the user through the intuitive image recovery process, delivers extensive recovery capabilities.
Product Highlights
Recovers photo, video, and audio files from any brand or type of memory card, using any card reader
Recovers popular file formats, including JPEG, TIFF, RAW, MP4, AVI, and more
Redesigned interface and simple recovery process
Live online chat link to Lexar support engineers
Includes card reformatting, secure deletion, and overall card health check features
Works with PC or Mac
Promo Details :
Just visit this link http://bit.ly/dX8XF ,then enter your email address and start downloading the software.Install it there is no serial number or activation required! It is a standalone copy which you can use forever,anytime, or anywhere